May 1st always reminds me of May Day in Catholic School when we danced around the statue of Virgin Mary with ribbons and flowers. I still dig Mary, all sweetness and light, none of that gruesome Catholic stuff. May is beautiful, my garden is going off, there are hummingbirds aplenty, its time to plant our summer veggies and a couple of my chickens even laid 2 eggs apiece this morning! That's Little Tina Turner up there hanging out in my studio.
Here's some info on a couple of upcoming shows I'll be in this month. I'm making some pieces for "Nurses and Donuts and Art, OH My," at Psycho Donuts, set to open on May 15...see details below. If you haven't been to Psycho Donuts in Campbell, it's a trip! Come to the opening...my daughter Ivy Atoms will be doing live drawing along with Christine Benjamin. Also adorable artist Trina Merry will be doing some live body painting. And of course there's "Delicious" at Studio gallery in SF, opening May 9th.
If you don't already have it on your calendar, solo show June 4th at Kaleid Gallery, San Jose, hope you can be there! If you'd like to receive my monthly newsletter with noteworthy events please email me at murphyadams@sbcglobal.net.
Thanks!
Murph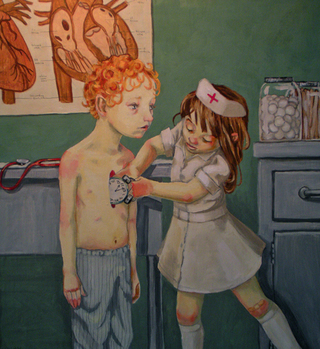 artwork by Lacey Bryant
Donuts and Nurses and Art, Oh My! at Psycho Donuts in Campbell
Reception: Saturday, May 15th 10AM to 3PM
Show runs from April 27th to June 6th 2010
Psycho artists are working around the clock, driving themselves crazy - in preparation for "Donuts and Nurses and Art, Oh My!" Check out original affordable artwork by local artists - like Christine Benjamin, Lacey Bryant, Michael Foley, Sheri DeBow, Eric Joyner, Simon Salas, Murphy Adams, Nic Caesar, Michael Borja, John Hageman, Michelle Waters and more.
Artist Trina Merry will entertain audiences with her live body painting and artists Christine Benjamin and Ivy Atoms will be on sight painting some cool creatures on canvas!
Come for one of the world's best donuts, and "Psycho Killer" coffee; stay for the art!
Psycho Donuts
2006 S. Winchester Blvd.
Campbell, CA 95008
408-378-4540
HOURS
Monday - Thursday 6am-9pm
Friday 6am-11pm | Saturday 7am-11pm | Sunday 7am-9pm
-----------------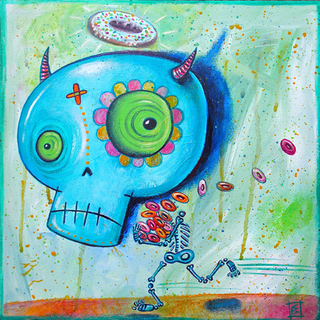 art work by Christine Benjamin
Delicious Show Work Inspired by Food & Drink at STUDIO Gallery in San Francisco
Reception: Sunday, May 9th, 2-6 pm
Show runs from May 5th - June 6th 2010
The Bay Area's twin passions, Food and Art, come together in Delicious, our annual show of work inspired by food and drink. This year's show--our sixth!--is bigger and better than ever: over 100 local artists bring their talents to the party. There's something for every appetite: lovely views of farms and Wine Country vineyards, terrific still lifes, scenes of local eateries and bars, plus a bit of retro flair. Each year there are themes that emerge: this year there's a lot of red, a lot of smaller, affordable pieces, fewer vegetables and more junk food. But if pressed, we would have to dub 2010 The Year of Bacon: the show has a number of witty depictions of that favorite cured meat product.
STUDIO
1815 Polk Street
San Francisco, CA 94109
415.931.3130
HOURS
Wednesday -
Friday, 11am-8pm
Saturday +
Sunday, 11am-6pm
Closed Monday + Tuesday, except by appointment