Happy Holidays!
Don't know about you but I can't believe it's already December and that the holidays are here...yikes! As if spending all Thanksgiving day with my dysfunctional family wasn't enough, now Christmas is coming and I'm forced to buy them gifts too. If you're in the same dilemma, I may have a solution, the gift of art! Check out what I've got going this season!
Hark!
Yeah that's my "Underpants Dance" on the cover of this year's
Hark!
invitation.
It's that awesome time of year when 60+ artists offer their signature works of art at especially affordable prices for holiday gift giving!
Participating artists include resident KALEID artists as well as an invited group of talented regional artists.
Hundreds of works of art will be our main feature exhibit for this holiday season, all ready to go home with you at time of purchase! I have about 7 or 8 brand spankin'new pieces in this super fun show, as well as a plethora of prints, clay pins and other goodies at the gallery.
Kaleid Gallery
Tiny
I also have work in "Tiny", a huge group show of affordable artwork at Studio Gallery in San Francisco. The show runs through December 23rd, so if you're in SF be sure to stop by!
Studio Gallery
1815 Polk Street
San Francisco, CA
On-Line Holiday Framed Print Special
Looking for that perfect gift? You know, I always offer my unframed prints 3 for $50 which is a great deal but this year I'm also offering framed prints, perfect for gift giving for $40. each, which includes free shipping! These can only be purchased on-line through my etsy store, so check it out! Whether those on your list are into getting hammered on cheap wine or loving their dog waaay too much, I'm sure you'll find them the perfect piece.
https://www.etsy.com/listing/171498787/holiday-framed-print-special-choose-any?
A BIG Thank You!
I just want to take this opportunity to give a big mushy thanks to all of you out there who support what I do. I had a fantastic year and sold tons of my
weird little paintings. Many thanks to all the galleries and art shops who think my stuff is worth hanging on your walls. Thanks too, to the many, many collectors old and new who follow my work and think enough of it to have it grace your home. It's wonderful, it's a gift and I'm so fortunate to have you out there supporting and encouraging me.
Best wishes for a wonderful holiday season and may 2014 be a year full of peace & love!
Murphy
murphyadamsstudio@gmail.com
Shop:
https://www.etsy.com/shop/MurphyAdamsStudio
PS: Look for my new blog January 1st which will be kinda a drawing a day sorta thing...kinda, not really, you'll see, I think you'll like it, unless you're severely boring and lack a sense of humor. Just kidding. I'll keep you posted.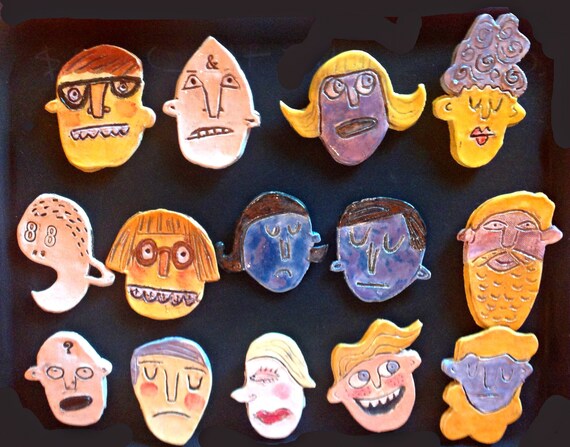 Coat Pins available on Etsy or at Kaleid Gallery
for just 10 bucks...new ones coming soon!!
https://www.etsy.com/listing/120784060/coat-pins-funky-naive-outsider-art-clay?ref=shop_home_feat